Data - Day 2: 
Miles Paddled - 13 miles ( With stops at St. Rose du Nord and St. Basil)
Moving Time - 4 hours, 56 minutes
Moving Average Speed - 2.6 mph
Stopped Time - 56 minutes
Overall Average Speed - 2.2 mph
Trip Odometer: 25 miles
 Ran into a big problem last night.  When I crawled into my sleeping bag, Big Agnes (my air mattress - Big Agnes is its brand name) was flat.  I refilled Big Agnes hoping  that I hadn't tightened the air valve enough the first time.  But, no, Big Agnes was flat again in short order.  This was just great!  I had five nights ahead sleeping on wooden tent platforms and nothing to cushion it with.  I left Big Agnes in place and crawled in my bag for a cool night on a hard surface.  After a fitful night's sleep, I woke up with aching hips.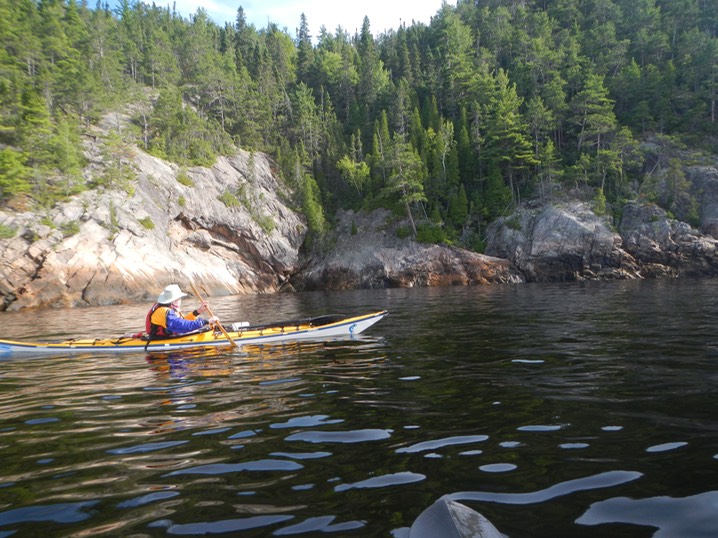 The weather predictions again remained bad.  Nevertheless, the day was quite nice with the possible exception of some afternoon wind.  We stopped briefly at St. Rose du Nord and also at St. Basil where we met Mr. Pilot (Peelow in French) and a woman named Nichole , who may have been his wife.  They were summer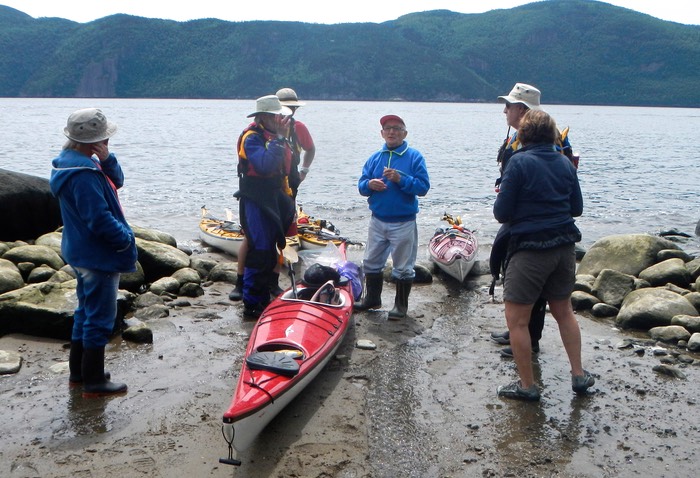 residents at this little settlement and seemed very glad to meet and greet outsiders.  We had a long conversation with the delightful Mr. Pilot in mixed broken French and English.  Then it was on to camp.
The Landing at Trinite was on a long but not difficult beach with a huge vertical climb to our campsites.  Baie de la Trinite was the crudest, and arguably the buggiest campsite of our trip.  It was the only one with gravel platforms rather than wood and the communal cooking area was right on the beach, just above high tide with the picnic table propped up on blocks.  Still, the view from up top was spectacular.
Video Diary: The campsite at Baie de la Trinite
<----- to Day 1                                 to Day 3 ----->