This report was written in 2009 and is updated here for your information and enjoyment.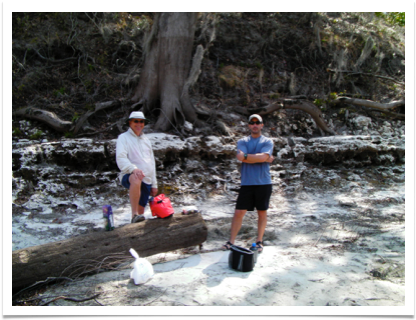 Florida's fabled Suwannee River: It is reported that Stephen Foster, who celebrated the Suwannee in the folk tune "The Old Folks at Home" (Florida's state song), never visited the Suwannee River in Florida.  Yet there are Stephen Foster state cultural parks and music parks all through the upper Suwannee.  Foster sang about the Suwannee in Georgia, where it originates.  Never the less, Foster and the Suwannee are linked forever, along with the live oaks and Spanish Moss, and the limestone cliffs and incredibly white sandbars that line it's banks.  
We began our adventure near White Springs, Florida and paddled 138 miles (mostly) southwest to Fanning Springs, averaging about twenty miles per day.  While Scott had identified and in some cases reserved camping facilities along the way, we adjusted these, camping along the river on public land on two nights (Commando Camping) to even out the daily distances paddled.  
We had the distinct pleasure of using the luxurious Suwannee River Wilderness Trail River Camps on three nights (more on the River Camps later).  Florida's state parks and camping facilities have to be among the best in the country.  Park facilities are always well maintained and park personnel are uniformly pleasant and helpful.  
We had glorious weather for the entire week.  Warm days with low (for Florida) humidity, blue skies, cool nights to keep the bugs at bay and water warm enough to swim in.  Read on for more information about this adventure!

Suwannee River Sojourn: A Summary
         Below is a summary of our trip.  We began in White Springs near the Florida Georgia border on March 7th, and ended at Fanning Springs, some 138 miles down stream on March 13th.  Our original plan, based on known places to camp each night, called for easy paddling, averaging twelve miles or so each day for the first three days.  Then the distances doubled to 25, 25, 28 and 21 miles on the last four days.  To even these miles out, we bypassed two of our planned stops and found camping places along the river (River Camps III & V).  We had great weather, which added to the relaxation and pleasure of this trip.  Links and resources will follow for those of you interested in paddling the Suwannee yourself.  
            Suwannee River Valley Campground - (KOA)
          Woods Ferry River Camp - First River Camp
Holton Creek River Camp - Second River Camp
              River Camp III - Third River Camp (Where are we?) 
            Peacock Slough River Camp -Fourth River Camp
              River Camp V - Fifth River Camp:  A sandbar 3-miles below Branford
                Gornto Springs County Park - Sixth River Camp
               Fanning Springs State Park